MolecuWars Trading Card Game
Atomicals are at war to build the most massive MolecuRing and gain ultimate valence control! Strategy is the key element in this chemistry battle: create your attack plan, partner your Chemicals, master your Labs and Energies, and destroy your opponent's MolecuRing while defending your own!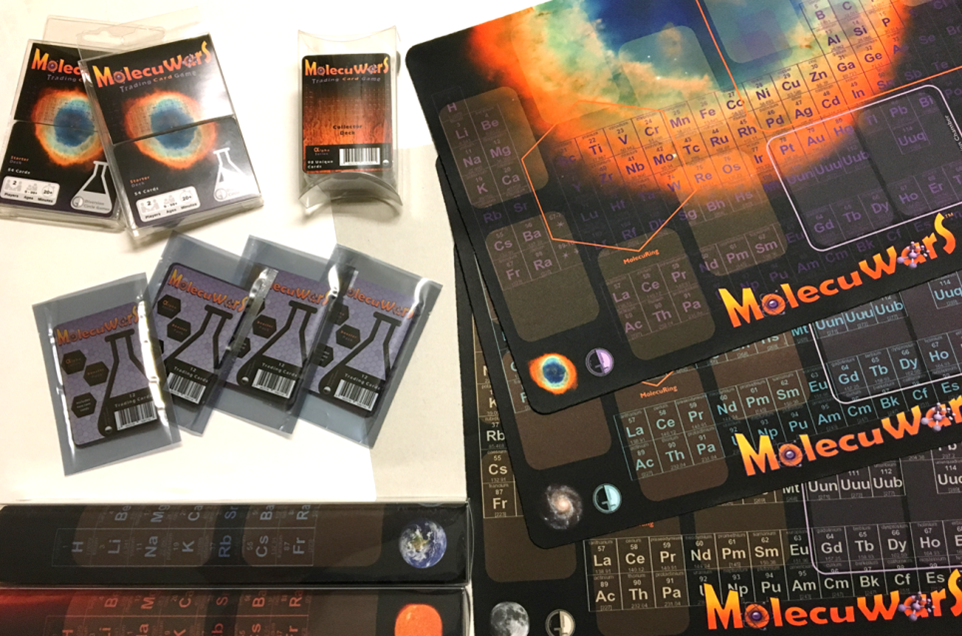 CAUTION! You may accidentally learn about element groups, chemical bonds, oxidation states, chemical reactions, states of matter, energy transfer, scientific theories, and material properties.
Elements, Chemicals, and Energies are real - master them.  Play, Strategize, Collect, Trade, Battle, Win, and learn in the process...  Collect all 136 original cards.
Booster Packs
Booster Packs $7.89
12 Collectible Cards - with these MolecuWars cards, you can enhance you atomic battle strategy.
 
Order today and receive $1 Shipping (US)!
$7.89 +$2.99 $1 Shipping
Collector Deck
Collector Deck $47.89
90 unique cards - combine with starter deck to complete 135 of 136 cards in the alpha series.
 
Order today and receive $1 Shipping (US)!
$47.89 +$4.99 $1 Shipping